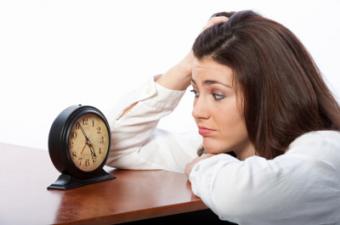 There are as many different freelancing schedules as there are freelance writers. While some writers prefer to set a rigid hourly schedule, others use a looser approach to managing their time. It doesn't matter what type of schedule you set for yourself, as long as it works to help keep you motivated and on task.
The Importance of Setting a Schedule
Part of the reason that many people are attracted to freelance writing is because they envision it as a way to get to sleep in late every day, work in their pajamas, and take the day off whenever they feel like it. However, this approach to managing your career is a guaranteed way to make sure you're stuck looking for a job flipping burgers within a few months.
Why are freelancing schedules important?
A schedule helps ensure that deadlines for all projects are met.
A schedule helps keep you from getting distracted by housework, Facebook, or other non-essential tasks.
A schedule makes it clear to the people around you that you consider your writing a "real" job, regardless of the fact that you work at home.
A schedule can be an hour-by-hour plan for how you'll spend your time or a list of goals that you simply must accomplish in a particular day. Your schedule might be the same from day or day or it may be something that must be continually revised depending upon the non-writing commitments in your life.
Factors to Consider when Setting Freelancing Schedules
When developing freelancing schedules, there are several different factors one must consider.
Income Goals
If you're a part-time freelance writer with a full-time day job or someone who is simply hoping to supplement a spouse's income, you may not have specific earning goals for your business. However, if freelance writing is your sole source of support, you'll probably want to base your schedule on how much money you need to earn each day. If you estimate you will need $3,000 per month to cover all of your bills, for example, you will need to earn approximately $700 per week or $140 per day. Freelance writers generally get paid by the number of articles they write, not the number of hours they work. You may need to work more than or less than a standard eight-hour workday to accomplish your goal.
When setting income goals for yourself, don't forget that freelancers have different monthly expenses than employees who work in an office. You'll probably save money by not having to commute, buy a professional work wardrobe, or eat at the corner deli for lunch each day. However, self employment taxes and business expenses such as the cost of Internet access and computer software can eat up a large chunk of your profits.
Personal Temperament
One of the best things about being a freelance writer is that you can set your schedule to work when you feel most alert. If you're a morning person, you can write your articles as soon as you get up and save your less mentally intensive tasks for later in the day. If you're a night owl, nobody has to know that you were hard at work at 2:00 am but slept in until noon.
Other Responsibilities
Obviously, a freelance writer who has small children at home is going to have trouble sticking to a rigid hourly schedule. She may be able to write uninterrupted for the two or three hours the children are in preschool, but she'll need to be flexible during the rest of the week. Many writers find it works best to get up an hour or two early or stay up after the rest of the family has gone to sleep, but this is entirely a manner of personal preference.
A Sample Writing Schedule
Jill Anderson, a part-time Web content writer who prefers to keep her days fairly flexible, might set her freelance writing schedule to look something like this:
Write two articles for web content writing client paying $20 per 650 words
Write 150 word blog post for client paying in revenue share (project generating an average of $100 per month)
If time, work on content for personal Web site about frugal living.
Jill's friend Tiffany Redding, a full-time writer who is trying to transition from Web content writing into more lucrative magazine work, might set her schedule to look like this:
9:00 am to 10:00 am - Prepare query letter for parenting magazine article idea on craft projects for preschoolers
10:00 am to 11:30 am - Write column for local newspaper, paying $30 per 500 word article
11:30 am to 12:00 pm - Finish edits on a previously assigned article for travel magazine paying $1 per word
12:00 pm to 1:30 pm - Break for lunch and short workout
1:30 pm to 2:00 pm - Conference call with client
2:00 pm to 3:30 pm - Research autism therapies for potential article idea on parenting a special needs child
3:30 to 5:30 pm - Write three articles on yoga routines for Web content client paying $20 for 500 words
5:30 to 6:00 pm - Answer emails, organize projects for following morning